EDIT MAIN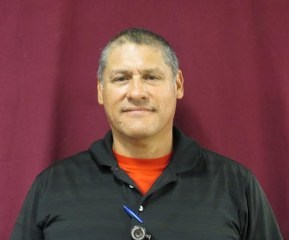 I was born and raised in Del Rio, Texas. Married to Jennifer Torres, DISD Middle School Principal & with a family of four. We are proud to be of service to Dilley ISD and the wonderful students & staff.
My work history includes 36 years of electrical experience, 15 years of jet engine mechanics to include quality control/assurance inspections, and 8 years in the Texas National Guard where my primary MOS was Signal Support Communication Specialist & I was also a certified Combat Medic.
During that time I did training in Fort Hood, Texas, Japan, Germany, and NATO Forces peace keeping mission in Bosnia-Herzegovina.
I take great pride in maintaining our facilities to promote a healthy & safe environment for our employees, staff & students.
My main responsibilities include:
Facilities, Maintenance, Grounds and Custodian Supervisor/Director
Overseeing new construction under direct supervision of the DISD Superintendent and Gallagher/Krueger Construction Superintendent
DISD Integrated Pest Management (IPM) Coordinator
DISD Asbestos Designated Person (ADP)
DISD Safety Committee and Crises Management
Maintenance of facilities
Maintaining facility fire alarm & fire extinguisher inspections
Communicating with outside contractors
Efficient ordering of facility supplies and custodian supplies in accordance with the school's budget
I'm proud to be a Dilley Wolf and a member of this awesome winning team. I will go above and beyond to get the job done with pride and honor.
---
Mission/Vision Statement and Goals
Mission statement:
DISD Facilities Department is committed in providing pleasant effective service through efficient communication, cooperative teamwork and organized planning to ensure a safe, healthy learning environment.
Vision statement:
The DISD Facilities/Maintenance/Grounds/Custodial Staff will provide a safe learning and clean environment for all staff and students.
Goals:
Strive to hire quality personnel committed to performing a professional job
Provide quality training to develop knowledge, safety awareness, and task performance skills and techniques
Provide quality equipment and supplies to support our program
Provide opportunities for administration, faculty, students, and community to gain knowledge of supportive roles
Provide continuous monitoring for quality assurance