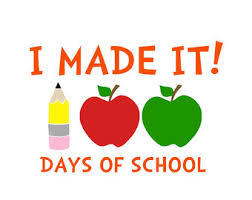 100 Days of School!!
Dilley ISD
Thursday, January 25, 2018
Help us celebrate our 100th day of School on February 8, 2018!
Students are encouraged to help us celebrate our 100th day of school by wearing a t-shirt marking the 100th day of school! If you choose, 100 items can either be drawn, painted or securely attached to the t-shirt. Please make sure that the items used to decorate the t-shirt are safe, such as buttons, bows or t-shirt paint. Students who participate by wearing their "100 day of School t-shirt" will receive a Popsicle with their lunch on February, 8th.