EDIT MAIN
2018-19 School Board Meeting Calendar
September 17, 2018
October 15, 2018
November 12, 2018
December 17, 2018
January 21, 2019
February 18, 2019
March 25, 2019
April 15, 2019
May 20, 2019
June 17, 2019
July 15, 2019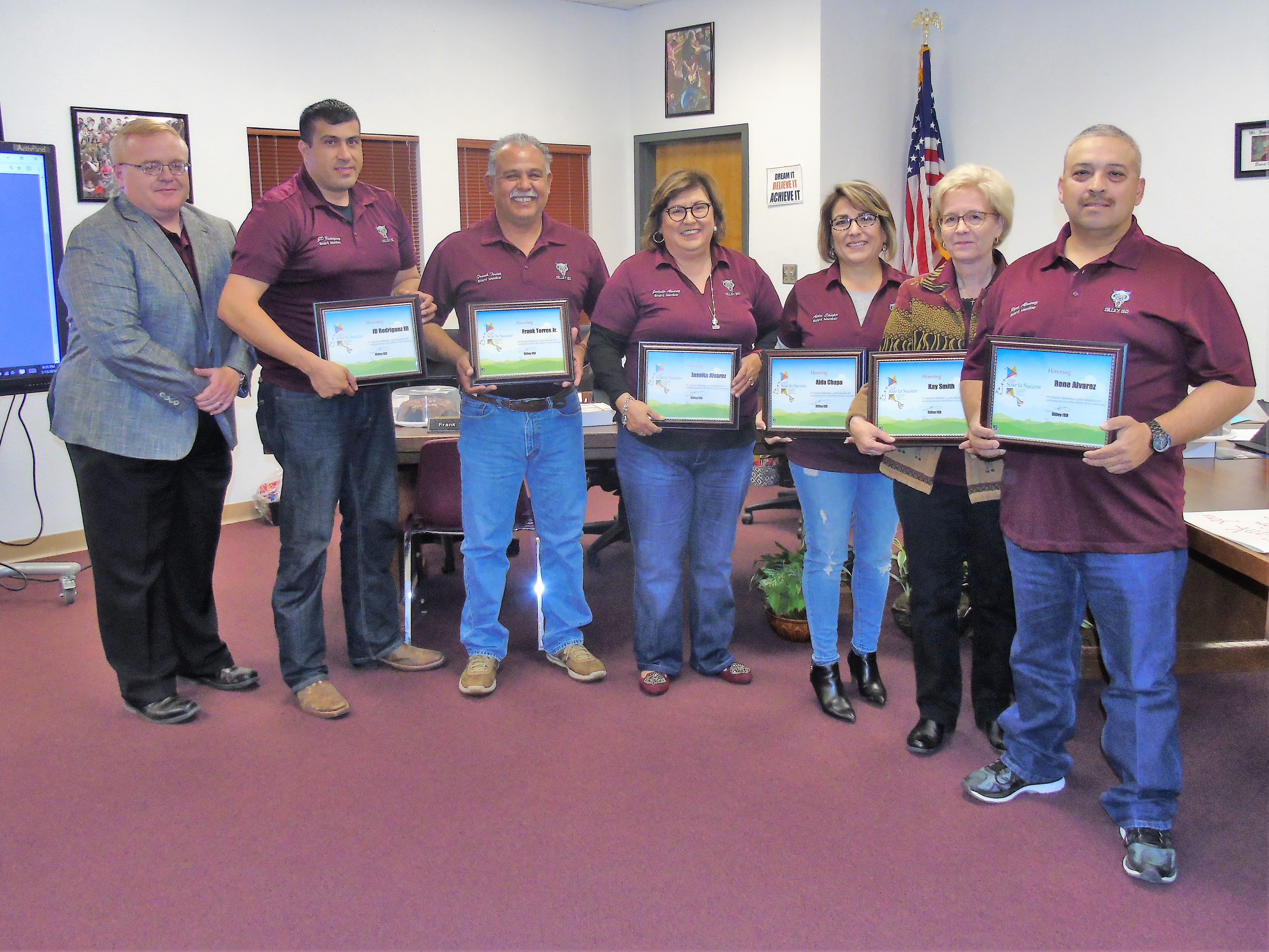 For release: January 2018
District contact: Dr. Clint McLain, Superintendent of Schools
Thank a School Board Member
January is School Board Recognition Month and Dilley Independent School District is joining other districts across the state to thank these community volunteers for their commitment and contributions to our public schools.
"School board members serve countless hours working to make public education the best it can be for every child," said DISD Superintendent, Dr. Clint McLain. In a climate of change and challenge, they develop policies and make tough decisions on complex educational and social issues that affect the entire community and the lives of individual students. They bear responsibility and oversight in Dilley ISD for an annual budget of $12 million; 990 students, in grades PK to 12; more than 170 employees; and 3 campuses.
Major district accomplishments achieved this year under the oversight of the Dilley ISD school board have been:
1.Academically all DISD campuses and the district are rated as Met Standard by the Texas Education Agency,
2.The 2015 bond project has been completed with facilities including a new Mary Harper Middle School, a new fieldhouse, and a new CTE building, and
3.All DISD students have access to technology through the district's 1-to-1 technology usage program.
"We proudly salute these education advocates as they provide vision and leadership for student achievement, academic programs, district funding, and school facilities. Their service ensures that decisions about local public schools are made by those most familiar with the needs of our community's children and families," said Dr. McLain. "These dedicated individuals deserve recognition and thanks for their unfailing commitment to the continuing success of our students now and in the future."
The men and women serving Dilley ISD are:
Mrs. Aida Chapa, Board President, serving her 17th year, and currently a construction record keeper for Volkert, Inc. "Every great dream begins with a dreamer. Always remember, you have within you the strength, the patience, and the passion to reach for the stars to change the world."- Harriet Tubman
Mrs. Kay Smith, Vice President, serving her 12th year, is a retired DISD teacher and currently the Secretary/Treasurer for the First Baptist Church. "I believe in Dilley I.S.D. and I want to help make decisions that will give all students a better education and a brighter future."
Mrs. Juanita Alvarez, Secretary, serving her 9th year, is a retired Supervisor from Camino Real MHMR, and currently enjoys having her own business, "Juanita's Party Trays". "As a citizen I feel a responsibility to contribute towards providing the best education possible for our children in our school district."
Mr. Frank Torres Jr., Member, serving his 16th year, and currently a Dispatch Officer for Torres Ready Mix. "I serve for Dilley ISD for the high quality education of our students."
Mr. Rene Alvarez, Member, serving his 8th year, and currently a Pipeline Operator for Plains All American Pipeline. "My goal is that Dilley I.S.D. provides the best possible education for all students that will prepare them for a successful life."
Mrs. Gracy Silva, Member, serving her 5th year, and currently a Dental Assistant for UTMB – TDCJ Dolph Briscoe Unit. "I am committed to a vision of high expectation for our students' achievements & excellences. We grow our own, for a better community and a brighter future."
Mr. JD Rodriguez III, Member, serving his 2nd year, and a Sergeant/State Trooper for the Texas Department of Public Safety. "I want to make a difference on improving student achievement."
"Great leadership always begins with a willing heart, a positive attitude, and a desire to make a difference. Please join us as we applaud these local leaders for helping our kids soar to success."